Litmus is the monthly newsletter of ACID, the Australasian CRC for Interaction Design
1. ACID NEWS
:: ACID welcomes new Research Leaders
It's my pleasure to update you on some recent changes to the ACID Research Leaders Group.
Following Professor Greg Hearn's resignation from the role of interim Director of QUT's Institute for Creative Industries and Innovation, he has also resigned as our Research Leader representing QUT. Greg's contribution to ACID was significant, and we will miss his input.
Greg has been replaced as QUT's representative on the ACID Research Leaders Group by Margot Brereton, who has moved from the University of Queensland to QUT to take up a position as Professor in the Faculty of Built Environment and Engineering.
Margot's previous role as UQ's representative on the Research Leaders Group has been taken up by Dr Stephen Viller, who has worked with ACID over a number of years.
Professor Ernest Edmonds of the University of Technology, Sydney, has taken on the role of Project Leader on one of ACID's major programs, Our Content. To avoid any potential conflict of interest, Ernest has stepped down from the ACID Research Leaders Group. Professor Kees Dorst joins us as Research Leader representing UTS.
We welcome Dr Viller and Prof Dorst to the ACID Research Leaders Group, congratulate Prof Brereton on her move to QUT, and look forward to working with the new Research Leaders Group in 2008.
The ACID Research Leaders Group is now as follows:
Professor Mark Burry, RMIT University, Chair of ACID Research Leaders Group
Professor Mark Billinghurst, HitlabNZ, University of Canterbury
Professor Duane Varan, Murdoch University
Professor Margot Brereton, Queensland University of Technology
Dr Stephen Viller, University of Queensland
Professor Kees Dorst, University of Technology, Sydney
I would like to take this opportunity to thank everyone in the ACID family for a great year. We've worked hard, gone through a number of significant changes, delivered a number of successes, and finalised a strong research program for the future.
2008 promises yet more hard work, much of which will be associated with the new CRC funding bid, and many more solid successes including commercialisation of some key projects.
I wish everyone a restful and re-energising holiday season and look forward to working with you all again in the new year.
Suzannah Conway
General Manager & Acting Executive Director

:: ACID holiday closure 21 December to 7 January
ACID's Kelvin Grove office will closed on Friday 21 December 2007, and re-open on Monday 7 January 2008.
Happy holidays to all.
::::::::::::::::::::::::::::::::::::::::::: top
2. RESEARCH AND PROJECT UPDATES

First stage: The MiLK team discovered the gardens
in preparation for the next day's workshop,
and built the 'amazing garden' event.



Day 2: Introduction to MiLK. The students headed
off in groups of three to play the 'amazing
garden' event developed by the team, and to
learn how MiLK works.



Designing and Building Events. The students designed
their own events for specific spaces within
the gardens. Each event consisted of up to
10 checkpoints consisting of a question, answer
and up to five hints.



Playing Each Other's Events. While the students
were building their own events, the MiLK team
briefed the teachers on the teacher view and
administration processes. When each event was published,
the students played each other's events.


:: MiLK participant trial, Adelaide Botanical Gardens
ACID researchers Deb Polson, Colleen Morgan and Sherwin Huang conducted a major participant trial of the latest version of MiLK, the Mobile Informal Learning Kit, in Adelaide in late November.
MiLK allows participants to design event paths that lead players through a location. Questions and hints, sent by SMS to mobile phones, direct players to checkpoints within the location.
The trial involved teachers and students from three Adelaide high schools testing MiLK 0.5 in the Adelaide Botanic Gardens. Each group of three students played an event created by the MiLK team, created events of their own, and played each other's events.
The MiLK team collaborated with Paul Doherty of the SA Department of Education and Children's Services and with Steve Meredith, Education Officer with the SA Dept of Environment & Heritage, Botanic Gardens & State Herbarium.
"The trial was vital to our research on MiLK," said project leader Deb Polson.
"We're looking into tools and literacies that link schools to other dynamic learning spaces and ultimately the everyday lives of students. This trial generated lots of positive, valuable participant feedback from both students and teachers."
Feedback from the students:
What do you like best about MiLK?
"... you can create your own game, publish it, and then it is amazing that people can so simply and get text messages back when we haven't even touched a phone."
"... all the information is in the palm of your hand..."
"... it combines learning with new technology."
"This is so much fun, so much better than sitting in a classroom."
"I think it was just as fun making the games as playing them."
"I know a lot of people wouldn't even bother looking at the signs on the plants and when you transfer it to this game it makes them look at it, makes it a bit more interesting..."
"... if you are working in a space you're not familiar with you learning a lot more about it because you actually have to go out and look for that stuff."
Who would you make a game for?
"Our principal ... if we do it for her she will endorse it."
"... the computer technician because he blocks all the games and thinks they are stupid."
Teacher Feedback:
"It is that move from lower order thinking, just answering questions, recall and finding information, to actually understanding and interpreting it, and actually being able to synthesise.
"If you want to look at Blooms taxonomy, you are going right up from a lower level up high really quickly and that is where we have always tried to get kids to move to, from the basic recall to thinking about it.
"So it is a great tool for that I think."
:: Qld Smart Classrooms ICT Pedagogical Licence to MiLK Teacher Janelle Williams
Janelle Williams of Trinity Bay State High School in Cairns has been awarded an ICT Pedagogical Licence under the Queensland Government's Smart Classrooms strategy.
The license acknowledges teachers who effectively integrate ICT into teaching and learning.
A large part of Janelle's application was her use of ACID's MiLK platform. She said "the relationships I strengthened with my students are perhaps the thing I found most powerful about the project."
The MiLK team and everyone at ACID congratulate Janelle on her award. See the MiLK blog for more info.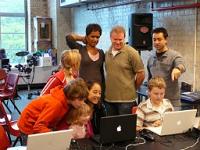 :: Apple supports ACID Network Jamming project
The Apple University Consortium has awarded Andrew Brown and Steve Dillon from the ACID Network Jamming project a grant for a set of four Apple laptops and an iPod.
Project leader Dr Steve Dillon of QUT said the equipment will be used for field trials.
"The Network Jamming project explores the way collaborative creativity – like networked music performances – enhances learning and community, particularly for novice users such as children and people with disabilities," Steve said.
"The systems are connected to digital social networks that facilitate creative collaboration in community contexts, and allow us to develop enhancements to digital networking and to develop new tools that support creativity."
Steve said the Apple University Consortium's grant would allow the project to extend its field trials and text the podcasting of jams as part of the social experience being designed around the jamming activity.
Keep up to date with media works made by jam2jam and iJam users at www.jam2jam.com.
Calling all ACID Researchers: If you'd like to let others at ACID know when and where you're publishing, just send the details to Litmus.
::::::::::::::::::::::::::::::::::::::::::: top
2. ACID PEOPLE
:: Sorensen joins ACID Adaptive Media project
Andrew Sorensen of QUT has joined ACID's Adaptive Media project as a Research Fellow, exploring the opportunities presented by generative content creation in public displays, film, television and other creative industries.
In addition to his research focus, Andrew is a member with ACID's Andrew Brown of aa-cell, a live coding duo that performs ambient/electronica/experimental music via computer code in real time. Visit aa-cell's MySpace page for links to recent performances.
Welcome Andrew!
::::::::::::::::::::::::::::::::::::::::::: top
4. DATE CLAIMERS: Mark Your Diary Now!
:: Awards and Residencies
D&AD 'Yellow Pencil' Awards 2008
Entries due: 16 January 2008
visit the D&AD website for more info...
:: Professional Workshops
Pervasive Persuasive Technology and Environmental Sustainability Workshop
6th International Conference on Pervasive Computing
19–22 May 2008, Sydney, AUSTRALIA
Position papers due to to m.foth[AT]qut.edu.au by 25 January 2008
Visit Urban Informatics for more information
New Views 2: Conversations and Dialogues in Graphic Design
An international symposium defining graphic design for the future.
9–11 July 2008, London, UK
Abstracts due 1 February 2008
Poster outlines due 30 March 2008
email Laurene Vaughan for more info...
Networks of Design
An international symposium defining graphic design for the future.
3–6 September 2008, Falmouth UK
Abstracts/proposals due 25 February 2008
email the convenor for more info...
Imagining Business: Reflecting on the visual power of management, organising and governing practices, First EIASM Workshop
26–27 June 2008, Saïd Business School, Oxford UK
Submissions due 28 February 2008
visit the EIASM website for more info...
10th Anniversary Conference on Participatory Design: Experiences and Challenges
30 September – 4 October 2008, Bloomington USA
Submissions due 15 March 2008
visit the conference website for more info...
:: Conferences
IIT Institute of Design Strategy conference
15-16 May 2008, Chicago USA
visit the IIT website for more info...
Graphics Interface 2008
28-30 May 2008, Windsor CANADA
visit the GI2008 website for more info...
IDC_08: 7th International Conference on Interaction Design and Children
11-13 June 2008, Chicago USA
visit the conference website for more info...
ISEA2007: International Symposium on Electronic Arts
25-30 July 2008, Singapore
visit the ISEA website for more info...
Research Into Practice: 5th Biennial International Conference
31 October 2008, London UK
visit the conference website for more info...
:: Calendar Call
If you have an event, meeting or conference date to share with ACID colleagues, just click here to e-mail the info.
::::::::::::::::::::::::::::::::::::::::::: top
About Litmus
Litmus aims to keep you informed about news and events at ACID, the Australasian CRC for Interaction Design.
Contributions are always welcome and past editions are available. Just e-mail us with your story idea.
To subscribe, just click here.
To unsubscribe, just click here.