Happy New Year!!!
Welcome back Litmus readers, we hope you had a fantastic festive season and are settling back into 2010 rather nicely.
We have hit the ground running here at ACID with many projects positively brimming over with excitement.
Our Research Manager Andrew Brown has been out sharing the ACID story at Cambridge University, Commercialisation Manager Paul Holland is meeting with interested parties every day, and Jam2jam is taking over the world one educational facility at a time with a new site starting in Cyprus this week.
We've added a little competition to Litmus this month, so for your chance to win one of ten new-look ACID USB's, look out for the secret question somewhere in this issue…GOOD LUCK and enjoy!
One Laptop per Child
ACID's Network Jamming Project research developer Thorin Kerr has been madly working away at the prototype version of jam2jam for the OLPC (One Laptop Per Child) XO computer.
In this spontaneous video filmed on Project Leader Steve Dillon's Flip video camcorder, Thorin shows how each XO becomes an instrument (bass, drums, keyboards, guitar) and connects on OLPC's unique Sugar mesh network.
ACID Research Manager Assoc Prof Andrew Brown and University of Massachussetts Lowell researcher Dr Alex Ruthmann take the other instruments in the performance. Jam2jam for the OLPC will be on the Australian build for OLPC going out to up to 100,000 rural and Indigenous students. It will be available for download through the OLPC network. We hope to develop a community of sharing of musical styles and recipes for jamming.
Network Jamming research involves examining meaningful engagement with music and media performance in communities and schools, and enabling people to experience the joy of music making with others.
New Zealand joins Network Jamming research
In December 2009 Dr Steve Dillon was invited to visit Assoc Professor Trevor Thwaites at the University of Auckland in New Zealand.



Trevor is an Internationally acclaimed jazz drummer and vibraphonist and Deputy Head of School and Principal Lecturer Music Education School of Arts, Languages and Literacies.
Network Jamming research in Auckland will involve work with student teachers and a principal research site at a suburban school where a doctoral researcher will examine the affordances of generative technologies in New Zealand contexts of multi-cultural and multi-modal learning. Assoc Prof Thwaites' own interest lies in the use of jam2jam as an improvisational learning environment and the philosophy of embodied knowing in music learning.
We welcome the Auckland researchers to the Network Jamming team!
Controlling the Jam at UTS
Associate Professor Bert Bongers and his trusty team at UTS have been working hard with exciting controllers to go hand in hand with Jam2jam, on the Physical Interfaces Infrastructure project. Stay tuned to the website research pages for more information as it develops, but for now check out this short clip showing some of their magic.
See other videos from the Jamskolan symposium on the save to D.I.S.C website.
Hold that date!
With only five months to get all the amazing ACID research out into the world we are planning the big celebration and you're all invited.
The dates to mark in your diary are 19-20 May, 2010. Stay tuned for more information!
Sad Farewell
Anyone who's walked in the door here at ACID over the last 3 years will have been greeted by the smiling face of our Office Coordinator Kat Chivers.
If you've missed the emails, Kat has now taken on a position with Griffith University at The Conservatorium of Music.
I'm sure you will all join me in thanking her for the hard work, the laughs and the memories as we wish her well in her new adventures!

This does of course mean that if you have any questions, queries, requests or favours you would usually ask Kat you should now start by directing those to me (Ali) and I can either help you or find someone who can.
Where are they now?
As we begin counting down to the end of our Commonwealth grant on June 30, 2010, we are pondering what legacy will we leave behind.
One of the things we are planning is a "Where are they now?" page on the website so people can see where the ACID family have moved on to.
So if you've been a part of the ACID family we'd love to hear from you… Where are you now?
Twitter Update
If you had been staying tuned to the @acidcrc twitter feed you would know ACID had some furniture for sale, we are very pleased to tell you the highest bidders were our friends over at the Red Cross at Bowen Hills.
Q: In October's Issue of Litmus, we feature 5 minutes with the boss…in the image what is our CEO playing?
The first 10 people to correctly answer this question win a new look ACID USB. Simply email marketing@acid.net.au with your answer and your postal address.
Technology Update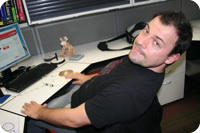 Greetings weary web wanderers and welcome to another episode of the microdot.
As I haven't come across any handy apps this month I'm going to cover a bit of news instead!


With the Christmas gadget-rush over, the calm seas of January present the perfect opportunity for the tech companies to make a big splash.
First off the newbie web browser Chrome edges a little closer to it's main rival Firefox by including support for add-ons in it's latest version. A long time barrier to entry for Firefox fans, the ability to modify and enhance Google's browser means there's one less reason not to make the switch. It remains to be seen whether the weight of add-ons will slow the notoriously speedy Chrome.
If you haven't given it a try yet, you can download it from here.


Perhaps the biggest news of all hit just at the time of writing. Apple proudly announced the new iPad; An ultra-thin, ultra-portable, touch-screen tablet that has the slick interface and usability of an iPhone or iPod-touch but with a much larger screen and more powerful jiggery-pokery under the hood. Unfortunately, like it's smaller siblings, the included browser doesn't support Adobe Flash, cutting out a lot of web content. Considering this is primarily a web-browsing device, I reckon that could be a deal-breaker for many. You can find out more about the iPad pretty much everywhere on the internet right now but more specifically here .

That's it for this month, I hope you had a happy new year. See you next time!