Litmus is the monthly newsletter of ACID, the Australasian CRC for Interaction Design
Virtual Warrane exhibition wows Sydney
Springer accepts, UNESCO endorses VSMM07
Barb Adkins + Eryn Grant - Qualitative Sociology Review
Office space at Kelvin Grove
Virtual worlds ABC-TV download now available
MILK Workshops in Adelaide
Suburban Communities Workshop
Student Symposium
Project Management Achievement Awards
PhD Candidate Feature: Malcolm Pumpa
Fausto Jahja, Software Developer
Student Placement: James Pitman
1. ACID NEWS
:: Virtual Warrane exhibition wows Sydney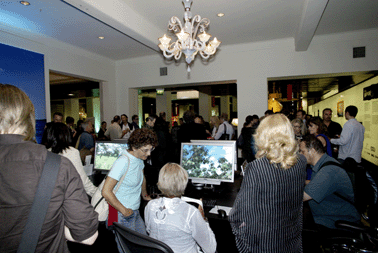 Photographs ?? Robert Wallace
The Indigenous Communities team's latest iteration of Digital Songlines, Virtual Warrane, is wowing the crowds at Sydney Customs House, with over 100,000 people expected to experience the exhibit during its run.
Like other iterations of Digital Songlines, Virtual Warrane is a 3D computer simulation of a Sydney Harbour landscape in 1788 that visitors can explore to meet the people and complete quests and activities.
Virtual Warrane is a re-presentation of the Warrane, the area around Sydney Cove, based on the earliest recorded shorelines and landscape. Visitors can live a day in the life of a Cadigal person before the arrival of the First Fleet.
The exhibit was put together by a team specially assembled to meet the tight deadlines required to install it in Customs House: Brett Leavy, Joti Carroll, Brenden Ledwich, Craig Gibbons, Michael Docherty, James Hills, Malcolm Pumpa, Alex Seel, and Joe Carroll.
Virtual Warrane was built on the original research and content developed by Brett Leavy's team at Cyberdreaming over at least two years. The City of Sydney and people from the Cadigal clan generously gave their time to ensure the content was as accurate and truthful as possible.
The exhibition was launched at Customs House on 28 March by former Senator Aden Ridgeway and City of Sydney Councillor Marcelle Hoff, representing Lord Mayor Clover Moore, to a crowd of around 200 invited guests. The exhibit will run until Sunday 10 June at Customs House, Circular Quay, Sydney.
ACID and Cyberdreaming have may people to thank for the Sydney exhibit, including Customs House (in particular Customs House Manager Jennifer Kwok), the City of Sydney, Dell and Sharp.
:: Springer accepts, UNESCO endorses VSMM07


VSMM07, the 13th international conference on virtual systems and multimedia - which ACID is hosting in Brisbane in September - has secured two important measures of support. Springer and UNESCO have both confirmed they're supporting the conference.
Springer has accepted VSMM07 for its Lecture Notes in Computer Science series. Springer is the world's second-largest publisher in science, medicine and technology. As a tier-one publisher it demands a 30 per cent publication rate (that is, the conference must decline 70% of submitted papers through the peer review process). Having Springer on board as the conference publisher should attract first-rate speakers and papers.
In a second piece of good news for the conference, VSMM07 has received official endorsement by the Australian National Commission for UNESCO. This endorsement is very important and will further add to the calibre of speakers and papers we can expect at the conference.
:: Barb Adkins + Erin Grant - Qualitative Sociology Review
ACID researchers Dr Barbara Adkins and Eryn Grant have had a new article accepted for publication in Qualitative Sociology Review.
'Backpackers as a community of strangers: the interaction order of an online backpacker notice board' explores the motivations and rationales that accentuate travel experiences as formative of the self, and investigates the backpacker as a collaboratively constructed category. They propose that the shared understandings of 'backpacker' enabled by electronic notice boards are consistent with the trend to cosmopolitanism, involving a shift to new forms of sociality: a solidarity with strangers.
Congratulations Barb and Eryn!
Calling all ACID Researchers: If you'd like to let others at ACID know when and where you're publishing, just send the details to Litmus. But don't forget the publication process requires all ACID publications to be approved - the guidelines are available from Education Program Manager Michael Docherty.
:: Office space at Kelvin Grove
'Our cup overfloweth with great people at ACID,' says Office Manager Ali Kerr, 'so we're running out of spare desks in the Kelvin Grove office. But visitors are still very welcome.'
If you don't have a regular desk at the Kelvin Grove office and need to use one while you're visiting, please contact Ali or Kat with as much notice as possible - they'll arrange a hotdesk for you.
:: Virtual Worlds ABC-TV download now available
If you missed the ABC Four Corners special on virtual worlds that went to air on 19 March, you can download the broadband edition from the ABC website.
Go to www.abc.net.au and follow the links to television, programs, Four Corners, and look for 'Broadband Edition' towards the bottom left of the screen. Or click here.
::::::::::::::::::::::::::::::::::::::::::: top
2. RESEARCH AND PROJECT UPDATES
:: MiLK workshops spread the word on mobile learning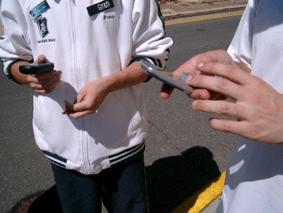 The Cipher Cities team has been flat out since January, developing a new Mobile Learning System for use in schools that assists users in making, playing and tracking mobile learning events. During March and April, the team hosted a number of workshops and trials with teachers and students in various learning environments.
Project Leader Deb Polson said the workshops and trials have been extremely valuable, providing concrete and useful feedback to further develop the MiLK platform.
'We've conducted workshops with groups of teachers, students and researchers in both Brisbane and Adelaide. During these workshops the participants get to create and publish there own mobile games with the MiLK interfaces and then get to watch other groups playing them in local sites,' Deb said.
'We've had a terrific time observing the groups create unique mobile events for each other with the new system. Both the teachers and the students recognise the new forms of learning opportunities it offers and were grateful that the interfaces were so simple to use and the interaction with the mobiles was instant. They all provided us with invaluable feedback to improve the various interface designs and support processes.'
Deb said that one particular group of South Australian students had significant vision impairment and gave a new depth to the testing.
'At first we viewed the group as a real way to test the access and processes involved in using the system,' she said.
'But what resulted was much richer than that. The groups that were not vision impaired were asked to consider designing a mobile trail that would involve writing clues that used senses such as sound, touch and smell. This meant that the experience in making and playing the games was far more interesting and dynamic than we initially expected.'
'It was really encouraging to witness them enjoying the experience as much as the other groups. The feedback from the students with vision impairment has led us to think more broadly about the kinds of content MiLK should be able to incorporate.'
MiLK is now being trialled in a number of schools in Brisbane and Adelaide.
Thanks to Paul Doherty and Karen Church from the Technology School of the Future in Adelaide and Margaret Lloyd and Kar-Tin Lee at the School of Mathematics Science and Technology Education at QUT, Brisbane.
MiLK Team: Deb Polson, Yang Wong, Shu-Min Heng, Dave Wallace, Colleen Morgan and Sherwin Huang.
:: Suburban Communities workshop
The Suburban Communities team held a one-day workshop in Melbourne on 23 March to finalise plans to reactivate the project.
The June quarter should be busy. The team plans to deploy an *i-wall* interactive noteboard at Kelvin Grove Urban Village, design a 3D virtual environment for home businesses with Wanneroo City Council, and prototype a Bluetooth-based information point for heritage trails with Fremantle City Council in WA.
Discussions are continuing with government, developers and other potential industry partners for activity in the new financial year.
Project Manager Ian MacColl of UQ noted that the team held the workshop in a conference space near the Melbourne airport, rather than in the city. 'The airport venue worked fairly well because we didn't run into any traffic hassles,' Ian said. 'That might be a useful tip for other workshops.'
:: Student Symposium + Demo Day at UTS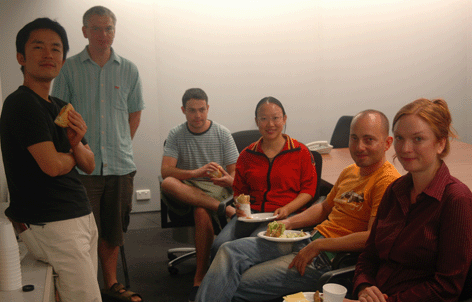 Students taking a break during the April symposium, (from left) Shigeki Amitani, Alastair Weakley, Julien Phalip, Yun Zhang, Zafer Bilda, Deborah Turnbull.
ACID students got together at UTS on 5 April for their first symposium of the year.
With a focus on demonstrations in 2007, Education Program Manager Michael Docherty said the ACID Student Symposia take our former speakeasies one step further.
'Students have an opportunity at the symposia to show ACID, and each other, what they've been working on,' Michael said. 'The symposia are student focussed, but project staff are also invited to participate and demo their work.'
The April symposium focussed demonstrations of works from students in the Creative Communities and Virtual Communities programs.
Alastair Weakley of Virtual Communities presented his work, along with Andrew Johnston, Julien Phalip, Shigeki Amitani, Deborah Turnbull, Zafer Bilda and Yun Zhang of Creative Communities.
Other ACID Student Symposia are planned for late May, late July, mid September and mid November. The September date will be the ACID Student Conference and coincide with VSMM07 in Brisbane.
:: Project Management Achievement Awards
The Australian Institute of Project Management is expanding its reach in 2007, and is calling for entries in the 2007 Project Management Achievement Awards recognising innovation and best practice in project management.
The awards are open to any project with an Australian affiliation, in any field. Winning projects will demonstrate innovation and/or excellence in the application of project management.
Two awards are applicable to ACID: for Projects and for Individuals. Relevant Project categories include product development, information technology, organisation/change management, and community service/development. The Individual awards are categorised by the seniority of the individual (Program Director, Project Manager, Project Team Member).
Submissions are due by 4pm on 1 June via the AIPM's internet submission site. For more information, visit the AIPM site.
::::::::::::::::::::::::::::::::::::::::::: top
3. ACID PEOPLE
:: PhD Candidate Malcolm Pumpa
ACID PhD student Malcolm Pumpa has completed his confirmation of candidature, looking at information learning and the cognitive styles of non-canonical approaches to knowledge. This research illuminates a critical HCI development area in representation.
Malcolm's study, Performing Aboriginal Knowledge Traditions with Virtual Reality Technology, contends that the digital representation of Aboriginal knowledge traditions is increasingly important for both Aboriginal people and a diverse range of scientific disciplines, but that most representations do not present a holistic view of Aboriginal knowledge. The study examines the requirements of methodology that will inform the design, construction and implementation of iterations of Digital Songlines, a virtual simulated world for representing Aboriginal knowledge. Malcolm uses Actor Network Theory to address ontological, epistemological and technical aspects of the project, and discusses the implications for a wide range of projects involved with Aboriginal knowledge traditions.
Malcolm is involved in the Virtual Warrane iteration of Digital Songlines in terms of design of the interface and an educational materials kit to be used with the virtual world. He is also designing survey instruments to gather information about the cultural learning experience of users of various iterations of Digital Songlines. See our feature on Virtual Warrane at the top of this edition of Litmus.
:: Fausto Jahja, Software Developer
ACID has appointed Fausto Jahja as a Software Developer on a full-time contract to work on the iCi Yodel project.
Fausto graduated with a Masters in Information Technology from QUT in 2006, and has worked in the Mater Hospital's Research Support Centre department. He came to Australia in 2004 from Indonesia, after graduating with a Bachelor of Industrial Engineering.
Fausto started at ACID Kelvin Grove on 19 March, and he reports to Research Technology Manager Harpreet Singh. He can be found in the main office, or by e-mail at fausto@acid.net.au
Welcome to ACID, Fausto!
:: Student placement: James Pitman
ACID is lucky to have attracted a work-placement student from QUT's Creative Industries Faculty. James Pitman will be with us, part time, until the end of first semester 2007.
James is working with the Contract R&D team on developing some new marketing merchandise. This involves his learning quickly about ACID's general operations, so you may get a call or an e-mail from James asking questions about what you do at ACID and how we work.
Welcome James, and good luck with your placement.
4. DATE CLAIMERS: Mark Your Diary Now!
:: Calls for Papers
VSMM2007. Exchange and Experience in Space and Place
Long papers due: 30 April 2007
Short papers due: 30 May 2007
visit the conference website for more info...
Communications Policy & Research Forum 2007
24-25 September 2007, Sydney NSW.
Call for papers closes: 25 May 2007
visit the conference website for more info...
:: Conferences and Workshops
C&T 2007: 3rd International Conference on Communities and Technologies
28-30 June 2007, East Lansing MI USA. visit the conference website for more info...
10th Pacific Rim First Year in Higher Education Conference
Regenerate, Engage, Experiment
4-6 July 2007, Brisbane QLD. visit the conference website for more info...
e-CASE 2007: The 2007 International Joint Conference of e-CASE, e-Commerce, e-Administration, e-Society, and e-Education
15-17 August, Hong Kong.
visit the conference website for more info...
VSMM07: 13th international conference on Virtual Systems and Multimedia
Exchange and Experience in Space and Place
23-26 September 2007, Brisbane, QLD.
visit the conference website for more info...
WikiSym 2007: International Symposium on Wikis
Wikis at work in the world: open, organic, participatory media for the 21st Century.
21-23 October 2007, Montreal Canada.
visit the symposium website for more info...
Defining the Scientific Evolution of Technology Enhanced Learning: the Kaleidoscope 2007 Symposium
Impact, Excellence, Value, Synergy
26-27 November 2007, Berlin Germany.
visit the conference website for more info...
:: Awards Programs
Project Management Achievement Awards
Australian Institute of Project Management: recognising innovation and best practice in project management.
See the AIPM website for more info.
Closing date: 1 June 2007.
:: Fun Stuff
GAME ON: free public programs
5 June 2007, 5-7pm
Alternate Reality Games with Christy Dena.
Kelvin Grove Urban Village Community Hub
Carraway Street, Kelvin Grove, Brisbane.
:: Calendar Call
The ACID calendar function is temporarily unavailable. If you have an event, meeting or conference date to share with ACID colleagues, just click here to e-mail the info.
::::::::::::::::::::::::::::::::::::::::::: top
About Litmus
Litmus aims to keep you informed about news and events at ACID, the Australasian CRC for Interaction Design.
Contributions are always welcome and past editions are available. Just e-mail us with your story idea.
To subscribe, just click here.
To unsubscribe, just click here.