Five minutes with the boss...
Amanda Boland-Curran, you've just finished your first month in your new role as CEO of ACID...
It's been a huge month, and everyone's been very supportive and positive as I make the transition from Business Manager to CEO.

As an organisation, we've:
finalised a formal variation to our Commonwealth Agreement, the document that outlines what ACID will deliver in return for our CRC grant;
submitted our draft 'wind-up plan' to the Commonwealth for approval – this document spells out how we will wind up our activities related to the CRC grant as it comes to an end in June next year;
submitted our annual report outlining what ACID achieved over the 2008–09 financial year – this will be up on our website soon;
held a Quarterly Review of all projects;
finalised project order documentation for most of the ongoing research projects – these are the documents that map out the resources available and the outcomes to be delivered by each project;
made good progress on looking into commercialisation opportunities for several of our mature projects – these are confidential so I can't say much here, but watch this space for announcements.
And I've been meeting with staff and researchers here in Brisbane, in Sydney and in Melbourne. I reckon good communication is very important, but especially as our CRC grant comes to an end, so I'll keep up the meetings and hope everyone will feel free to really talk with me about their work, their projects, and the organisation.

What are the implications of the CRC grant coming to an end?

ACID team members and most of our stakeholders already know that the organisation decided in January this year that we wouldn't bid for new CRC grant funds to carry on after the end of our current grant on 30 June 2010.

Instead, we are using the remaining grant period to deliver great outcomes for our researchers, staff, shareholders and stakeholders, and to tell the ACID story of success. The aim is for the CRC to leave a strong legacy that will benefit the wider Australian community.

It's worth noting that because ACID is a proprietary company, the end of the CRC grant doesn't automatically mean the end of the company. The shareholders will be asked to vote on the future of the company once the grant ends. Like any other company, we must ensure that we have enough income to cover expenses and deliver a profit for shareholders, so the shareholders will look at all aspects of the business in making their decision.

So what's the plan for the next 8 months to 30 June?

From a practical perspective, the Commonwealth Agreement and the Wind-Up Plan set our direction for the next eight months.

The Commonwealth Agreement outlines the specific research, commercialisation and education outcomes and milestones we need to deliver – either at the organisation level or at project level – and the research project orders get into the detail of how the projects will do their work. I've already shared the outcomes and milestones with many of the ACID team in my recent meetings, and I'm happy to revisit it any time. It's important that all of us on the ACID team understand what we need to deliver and how we fit into the big picture so if you haven't seen it, or you'd like to talk with me about how your work fits into the targets, please call!

The Wind-Up Plan is specifically designed for the Commonwealth – it outlines how we're addressing the governance and operational matters associated with the CRC grant coming to an end.

What's most exciting about the coming months?

Well, it's got to be the great work ACID is delivering.

An upside of the decision not to rebid for grant funds is that we're focussing on the short, sharp shock: wrapping up good research to a point where we can show it off and say "ACID discovered that". And that focus has already led to new opportunities for adoption and commercialisation of mature research, and there are more in the pipeline right now.

I'm also excited about our work in building Australia's interaction design capacity. Our education program and internships are providing real support and development for young researchers and practitioners, and our multi-disciplinary and cross-institutional approach has contributed to the emergence of a strong network for interaction designers in Australasia.

Which brings me back to the storytelling. The next 8 months brings with it a fantastic opportunity to tell the ACID story far and wide, the story of the research, the people and the legacy of ACID... releasing these stories will help benefit not only the research and the people but the also the ACID stakeholders.

I'd like to encourage EVERYONE to be a part of 'telling the ACID story'. My office door (actual and virtual) is always open, no question is off limits, call me, email me, come see me... let's tell the ACID story together!

Jam2jam research goes to Hong Kong
Producer John Ong and singers Haze Yam and Charis Chua
Network Jamming post graduate researcher and Canto Pop producer John Ong has been working with singers Haze Yam and Charis Chua to develop scenes for Jam2jam that reflect the expressiveness of Hong Kong Chinese popular music. The result has been a delightful sounding demo recording and a scene that will enable players to both play and compose their own Canto Pop song.
Charis is a graduate of Griffith University Conservatorium and Haze is a Nursing graduate from Queensland University of Technology. Both are actively involved in singing as part of the expressiveness in their lives. John Ong has been researching music and religious ecstasy form the western Church music director's perspective.
Network Jamming project leader Dr Steve Dillon said, "with the Network Jamming project we have always tried to involve people from the community to design musical environments so that the first sounds players hear are ones that are familiar and potentially provide an opportunity for expressive and collaborative performance".
Steve has been invited by the innovative Professor Sam Leong to present the new version at the Hong Kong Institute of Education to examine research partnerships to explore the musical and social implications of generative media and popular music in Hong Kong Schools.
Next month we'll hear all about Steve's adventures in Hong Kong!
48-hour Game Competition Wrap up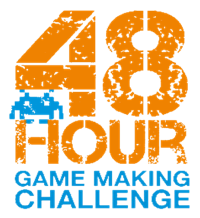 For all of you who were curious to know how the 48hour game making competition turned out, here's the wrap up:
The words that shaped the competition were: STORM, GIANT and LOVE
17 GameOn teams and 3 pro-league teams gathered at QUT's The Block for the 48 hour challenge, yep, that's 48 hours STRAIGHT
A fantastic 400 pots of "Fantastic" noodles were consumed, documented at kitchen cam reloaded
Some amazing games were produced but there can be only one...winner (per league of course).
The GameOn overall winner was BLACK WOLF with 'High Hopes' and the Pro-league Team winner was CURIOUS BEAR with 'My Mechanical Romance'.
Both winning games (and interviews, photos and much more) are available for download here.
ACID congratulates all 48hour gamers, thanks for letting us be a part of the fun!
Screen shot from 'My Mechanical Romance'


ACID: Out & About
ACID's Jeremy Yuille presented at the Web Directions Conference in October, talking about visualisation and sharing the research he and his team have been doing with our friends over at Deloitte Digital.
His presentation is available here.

ACID scholarship students Damian Hills, Julien Phalip and Viveka Weiley
We are excited that three of ACID's scholarship students are presenting at the Creativity and Cognition 09 Conference over at UC Berkeley this week. Damian Hills, Julien Phalip and Viveka Weiley, Congratulations again, we look forward to hearing all about it on your return!
Stay tuned for an update from the Creativity and Cognition Studios gentlemen on their adventures in the californian sun.
Technology Update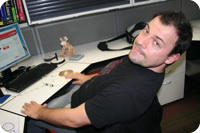 Master Chen's Microdot - Altering your perception of the outside world!
Here's one for all you iPhone carriers out there...now I know there are many apps available out there (ed. make sure you check out the ACID iPhone App MIXDEX if you haven't already), so to save you from sifting through them all, here is my recommendation…

FileAid
FileAid turns your iPhone or iPod touch into an FTP server. Launch the app, press the 'share' button and bingo! You can now transfer files to and from the device over Wi-Fi from any computer. Not only that, but the FileAid app allows you to view most file formats on the go. Perhaps the best part is that this app is completely free. Take a look at fileaid for more info or grab the app directly from iTunes.

Delicious
With all the hype of social networking sweeping the globe, it's easy to forget some of the sites and services that were around long before the latest Twitbook was born. One such example is delicious.com, a site dedicated to social bookmarking. You can use it to store your bookmarks for easy access (although I actually use the Xmarks Firefox add-on for that), but the strength of Delicious is in the sharing and discovery of new sites. By searching for a tag, you can see the most popular sites associated with it that have been shared by other Delicious users. I often find the results of a Delicious tag search are far more helpful than that of a mainstream search engine. Give it a try at delicious.

That's it for this issue. Thanks for reading and if you have any questions, suggestions or recommendations, feel free to drop me a mail.
Be seeing you!