Litmus is the monthly newsletter of ACID, the Australasian CRC for Interaction Design
Executive Update
Introducing Suzannah Conway, General Manager
Natural Born Cyborgs - mobile learning workshop
AGM update
acid calendar has your dates
Totally Australia - Looking Forward
Digital Songlines rocks Woodford
Online in-kind reporting coming soon
Project Managers
Google US patent search
Jeff Han podcast
1. FEATURED NEWS
:: Executive Update from Jeff Jones
Welcome back to ACID in 2007. We've already had a fast start to the new year with a new General Manager joining the organisation, and our annual general meeting.
First and foremost, ACID welcomed our new General Manager Suzannah Conway on 15 January. Suzannah comes to ACID with a wealth of experience in the creative industries, and a strong business focus.
Suzannah's role as General Manager is to direct our operations and business development. This is allowing me to focus on our research and commercialisation programs and spend more time working with the project teams - with the new title of Executive Director. Suzannah and I will work in tandem as an executive team, and we both report direct to the Board.
Our new executive structure is much like the Director/Producer structure used in the film industry, and together we're already delivering a clearer focus on both sides of ACID's business: research and operations. Welcome Suzannah!
Our second 'fast start' activity for the year was the annual general meeting of shareholders on 24 January. To make the AGM a more interesting day for visitors, Deb Polson and I led a workshop on mobile learning. See reports on both the AGM and the workshop in this edition of Litmus.
A few more changes for the new year:
Research & Development Director Sam Bucolo has settled in to his new routine working with both ACID and Diversionary Therapy Technologies - he's here at ACID three days a week and can be found at DTT on the other two days, but can be reached by e-mail any time. Sam's role within ACID is to focus on building opportunities for, and delivering on, commercial R&D contracts.
Our secondment of Jo Jacobs from the Brisbane Graduate School of Business at QUT has ended. Jo was, of course, Program Manager for Program 5-New Models of TV Advertising. Jo did a terrific job in bringing the Beyond :30 Seconds and Rapid Virtual Prototyping projects to their current status. The projects are now being reviewed for future directions; Laurene Vaughan has taken on project management responsibilities.
Development Manager Glenn Smith has left ACID to pursue other opportunities. Glenn was closely involved in the successes to date of both the diversionary therapy project and the Nokia project, and I wish him great success on behalf of everyone at ACID.
As a Cooperative Research Centre and more generally, ACID made a lot of positive progress in 2006 (see the AGM report for details). I'm really anticipating good things for ACID in 2007 and look forward to communicating with staff, researchers and stakeholders throughout the year.
Jeff Jones
Executive Director
:: A welcome from the new General Manager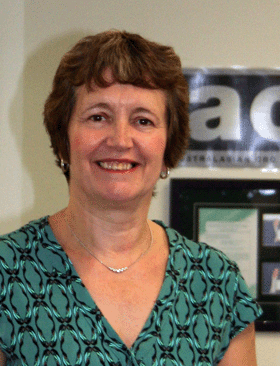 I am delighted to join the team at ACID and particularly to be working with Jeff Jones and the ACID Board to grow and develop this exciting organisation. My background is in arts management both in Australia and in Europe, and over the past 15 years I have run a number of major arts and cultural companies in Queensland.
These include seven years as General Manager of Opera Queensland, Executive Director of Queensland's celebrations for the Centenary of Federation in 2001, and Chief Executive Officer of three Brisbane Riverfestivals until 2004. Most recently I was the Executive Director of the newly created Museum and Gallery Services Queensland, the peak industry body for the museum and gallery sector in the state.
In my new role as General Manager of ACID, my aim is to make the business and daily operations run smoothly at all levels across the organisation in order to facilitate the work of Jeff and the research team. At the other end of our operations, I will also be looking at how we can deliver important commercial outcomes for ACID's research program through new and continuing partnerships.
My priorities in these early weeks are in reviewing the organisation's operations and structure, including examining financial reporting and budgets. I have also been meeting with staff and researchers to ascertain their views and how they feel ACID can work more effectively and efficiently in the future.
I look forward to updating you on issues and priorities at regular intervals during the year.
Suzannah Conway
General Manager
:: Natural Born Cyborgs - mobile learning workshop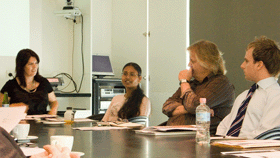 Deb Polson and Jeff Jones hosted a workshop on mobile learning on 24 January for educators, education policy representatives, and ACID shareholders and directors.
Most young people see computer games and mobile phones as a ubiquitous part of everyday life, but teachers and educators tend to see them as a distraction within learning environments.
We have an alternative that exploits the pedagogical potentials of custom-made game-based learning tools and digital social networks from the earliest phases of conceptualisation.
ACID's Mobile Learning project offers a system that allows teachers, educators and students to transform social relationships into collaborative learning activities outside the classroom.
The workshop on 24 January explored how our mobile learning tools might be used for curriculum design; how they might be tested, implemented and evaluated; and how we might explore the concept further in relation to making it happen.
Participants were very excited about the opportunities and about being involved in the longer term. Deb and Jeff are now working on negotiating partnerships with new participants, and more workshops and master classes are planned for the next couple of months.
:: Annual General Meeting update
ACID held its annual general meeting of shareholders on 24 January 2007. It was a fairly straightforward meeting this year, with no resolutions requiring a vote.
ACID Chairman Terry Cutler summed up the year for shareholders, with particular reference to the following:
Re-election of Directors: Shareholders participated in the first re-election of Directors since ACID was established. All existing Directors were re-appointed. In addition, the industry shareholders elected one new Director: Mr Brett McDonald of Heritage Properties.
Third-Year Review: ACID underwent its first formal review of operations. This is one of DEST's standard requirements for all CRCs, and ACID chose not to simply meet DEST's requirements but to make it a full review to provide input into operations and planning. The report identifies a number of strong capabilities and achievements, as well as a succinct outline of the major challenges going forward. ACID is now implementing the recommendations.
For more information on the Third-Year Review, contact Jeff Jones on 07 3337 7821 or by e-mail jeff@acid.net.au
Diversionary Therapy Spin-off: ACID spun out Diversionary Therapy Technologies Pty Ltd to progress the exciting developments of the diversionary therapy project. The spin-off will permit progress which would not be possible within ACID under the CRC funding regime.
Looking forward: The Board will be developing a strategy to take ACID through to the end of its current 7-year funding cycle, including addressing the core question of whether ACID should rebid for commonwealth funding as a CRC or pursue other options. The Board and management will also continue to build core competencies and critical mass, as well as exploiting commercialisation and contract research opportunities.
Jeff Jones updated shareholders on the visit by the Scientific Advisory Group (SAG) in August. SAG's feedback on our research was positive, both in terms of the content and standard of the research itself and in terms of ACID's international leadership in the field.
Jeff also outlined the challenge that ACID and other CRCs face in relation to identifying and protecting intellectual property and commercialisable research/product components. ACID is making good progress in this area, particularly in helping researchers consider the real-world impact of their work, which in turn allows the organisation to define commercial opportunities.
::::::::::::::::::::::::::::::::::::::::::: top
2. ACID NEWS IN BRIEF
:: ACID calendar has your dates
Don't forget the ACID Calendar can store all your important dates online and share them easily with colleagues and project teams.
Go to the ACID homepage and click on 'ACID Calendar'. You can search by keyword or category, and you can enter new events by clicking on the big red 'add event' plus sign. For help using the calendar, contact Amanda Boland-Curran on 07 3337 7838 or by e-mail amanda@acid.net.au.
:: Totally Australia - Looking Forward documentary
ACID featured in Network 10's Totally Australia documentary on technology, Looking Forward, which went to air on the afternoon of Saturday 23 December.
Deb Polson was interviewed about gaming, Miranda Forwood demonstrated skype, and several folks from our media lab appeared in vision grabs.
We have one copy on DVD in the office; if you'd like to borrow it just call Amanda Boland-Curran on 07 3337 7838.
::::::::::::::::::::::::::::::::::::::::::: top
3. RESEARCH AND PROJECT UPDATES
:: Digital Songlines rocks Woodford
The Indigenous Communities team presented Digital Songlines at the Woodford Festival at the end of December.
The presentation was funded as a performance within the Festival program and attracted thousands of visitors every day.
The team sold about 70 beta versions of Irene's World and Vincent's World on DVD, and spent the six days of the Festival talking with visitors who included Gabby Hollows of the Fred Hollows Foundation, Peter Garrett MP, journalist George Negus, and Andrew Carroll of Briz 31.
:: Online in-kind reporting coming soon
Harpreet Singh and Rosie Hill have released a beta version of an online in-kind reporting system in the last few weeks. Early adopters from the Virtual Communities program have been testing it in real time and providing useful feedback.
The exciting feature of the new system is that Rosie populates the online form with in-kind data as per the project order. Team members can then go in to check the data matches their actual in-kind contribution, amend the form as necessary, and submit the update with one click.
Harpreet advises that we aim to roll the online in-kind reporting system to other projects in the new financial year.
:: Program Managers listing
After several recent changes in staffing arrangements at ACID and within projects, the program managers group currently comprises:
Jeff Jones, Chair
Suzanna Conway, General Manager
Sam Bucolo, Research & Development Director
Michael Docherty, Education Program
Andrew Brown, Creative Communities Program
James Hills, Indigenous Communities Program
Jeremy Yuille, Virtual Communities Program
Ian MacColl and Ingrid Richardson, Suburban Communities Program
Harpreet Singh, Research Technology Manager
Rosie Hill, Administration

::::::::::::::::::::::::::::::::::::::::::: top
4. RELATED READING
:: Google US patent search
In December Google launched Google Patent Search (beta), which allows you to search the full text of over seven million patents issued by the United States Patent and Trademark Office from the 1790s to mid-2006.
Google has converted the entire image database of US patents into a format searchable by full text, patent number, inventor, filing date, etc.
We bet you didn't know that Herman H Meyer of Denver Colorado invented hinged stretching pieces to improve paper handling on drawing boards (patent number: 139411 issued in May 1873). Nor that William E Martin of Oconee Georgia was quite expert on the topic of guano distribution (patent number 107937 issued in October 1870).
You can do your own US patent searches for fun or profit at Google Patents.
:: Jeff Han podcast
iPod fans in the ACID family might be interested in seeing a podcast of NYU's Jeff Han demoing his team's rear-projected drafting table with multi-touch interactivity to the TED (Technology Entertainment Design) conference in February last year.
::::::::::::::::::::::::::::::::::::::::::: top
5. DATE CLAIMERS: Mark Your Diary Now!
:: Calls for Papers
VSMM2007. Exchange and Experience in Space and Place
Submission deadline: 30 March 2007.
visit the conference website for more info...


:: Conferences and Workshops
Reach Beyond: CHI 2007, ACM SIGCHI Conference on Human-Computer Interaction
28 April-3 May 2007, San Jose CA.
visit the conference website for more info...

Creativity & Cognition 2007. Seeding Creativity: Tools, Media and Environments
6th creativity and cognition conference
13-15 June 2007, Washington DC USA.
visit the conference website for more info...

IV07-IKV
11th European Information Visualisation Conference
4-6 July 2007, Zurich SWITZERLAND.
visit the conference website for more info...

Aesthetics Bridging Cultures. SANART 2007
17th International Congress of Aesthetics
9-13 July 2007, Ankara TURKEY.
visit the conference website for more info...

STILLNESS: 2007 Biennale Of Electronic Arts, Perth
Education Program: Computers in Art and Design Education
12-14 September 2007, Perth WA.
visit the conference website for more info...

SG07: 7th International Symposium on Smart Graphics
25-27 June, Kyoto, JAPAN.
visit the conference website for more info...


:: Awards Programs
Prix Ars Electronica, 'Digital Communities' projects
Awarding projects of great sociopolitical relevance and, a new focus this year, community-related net art projects. Total prize money 122,400 Euros.
Closing date: 9 March 2007
visit the website for more info...


:: Something Fun
Machinima Film Festival
24-25 February 2007, ACMI, Melbourne VIC.
visit the website for more info...


:: Something Fun
If you have an event, meeting or conference date to share with ACID colleagues, don't forget the calendar function now available on the ACID website.

Just click on the big red 'add event' symbol and follow the instructions.
::::::::::::::::::::::::::::::::::::::::::: top
About Litmus
Litmus aims to keep you informed about news and events that may be of interest to you. Contributions and constructive criticism are always welcome. Please call or e-mail Amanda Boland-Curran, Communication Manager, ACID. P: 07 3337 7838. E:
amanda@acid.net.au
You have received this edition of Litmus because you have registered to be a member of
interactiondesign@acid.net.au
If this newsletter has been forwarded to you and you would like to subscribe, click
here
. To unsubscribe, send a blank email to
interactiondesign-unsubscribe@acid.net.au