ACID Holiday closure...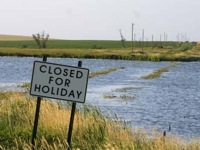 The ACID Office will be closed
for the holidays from Friday 18 December.
We'll be back from Monday 4 January 2010.

We wish you a happy and safe holiday and a spectacular 2010!
"This Way Up" Communication Design Graduation Exhibition 2009
We love being located on site at QUT because we get to see, and play with the incredible work that comes out of the next generation of interaction designers.
ACID is the very proud sponsor of The ACID Prize for Tangible Media, for graduating students of the QUT Bachelor of Communication Design. The prize is awarded to the project demonstrating the most thorough resolution of an immersive interaction prototype.
The winning project this year was SONIC FOOTPRINTS, by Chris Gordon, Ryan Pascoe and Dane Tennant.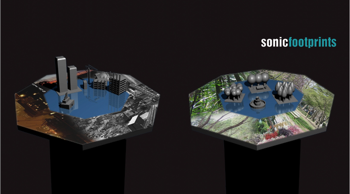 A little about the project: "Sonic Footprints strives to inspire a social conversation about our current sonic environment and the attributes of which we have control as members of our acoustic community. As sound is often considered the ambience of our civilization, the sonic landscape often feels beyond our control, an inevitable, if unpleasant, accompaniment to progress (Schafer, 1970). The intention of Sonic Footprints is to create a scaled-down, interactive tangible medium whereby the audience builds a sonic-based reality by experimental urban planning."
SonicFootprint creators DaneTennant, RyanPascoe and ChrisGordon with ACID CEO Amanda Boland-Curran
Congratulations to the winning team and to all the graduating students for their excellent work!
Get your own piece of ACID today!
Yes you heard it right, you can download your very own new release piece of ACID today.
Download a Free Public Beta version of Jam2JamAV for Apple Mac OSX10.4 & 10.5 (NOT SNOW LEOPARD) here.
And while you're in the mood for downloading check out the following other ACID downloads and websites if you haven't already.
MIXDEX, the iPhone/iTouch DJ application here
Oscillating Ryhthms, the new approach to rhythm generation here
Nnub, the digital community noticeboard here
And don't forget the always popular 3dsee, the website to make 3d modeling EASY here.
Loupe takes the Town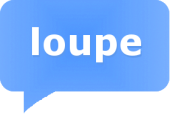 Our friends on the Loupe Team have been hard at it again, hitting the net with installment 3 of their social vizualisation series on Johnny Holland Magazine, an open collective exploring the interactions of experience design. Check it out here.
Having presented at OzCHI last month, along with many other ACID researchers, the Loupe team is also presenting at the OzViz Workshop at Monash University later in December.
The Loupe team will be published in the Jan/Feb 2010 edition of Interactions, on their work on data vizualisation with an emphasis on open data, like the work of the Government 2.0 taskforce.
For those of you who follow our twitter stream you will already know that Melbourne Team ACID participated in Melhack , the Victorian contingent of Govhack hosted by Lonely Planet several weeks ago. Team ACID presented their PocketPlanet paper prototype and are working on extending it and ironing out the UI bugs over the next month. Stay tuned for access to a demo soon. The team won several prizes for their entry.
Great work Jeremy, and all the magnificent team!!!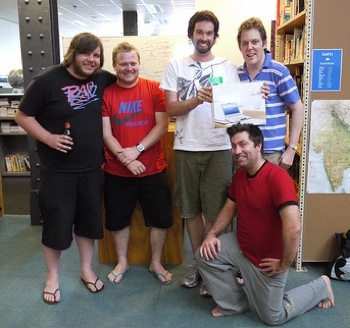 The triumphant ACID Melhack team


Toby, our New Inventor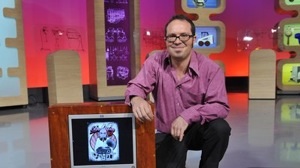 Regular viewers of The New Inventors on the ABC you may have been lucky enough to see ACID's friend Toby Gifford showing off his JAMBOT invention.
The New Inventors is all about inventions and inventors.
Each week 3 totally new, never before seen inventions are demonstrated, examined, prodded, pushed, pulled and occasionally dropped by host James O'Loghlin. Their inventors are then subjected to a barrage of questions by the 3 member judging panel.
At the end of the show the judges choose a winner, who may advance to the show's grand final at the end of the year. Whilst analysis of inventions is rigorous, the amazing and inspiring work of inventors is always recognised.
The show celebrates the inventiveness and resourcefulness of the human mind, and the determination and hard work of those who dream big dreams, and then slave away to make them real.
See Toby's segment here.
The Jambot, a musical robot that listens to music and jams along, unfortunately didn't win, but the judges had strong opinions on its merits. We're ridiculously proud of you over here at ACID Toby, well done!!
Apple University Consortium Innovation Grants

The AUC is supporting eight Development Grants in 2009 by providing Apple hardware and software. Two ACID researchers have been successful in receiving the sought after Apple University Consortium Innovation Grants this year.
On Friday the 13 November the announcement came out that both Andrew Sorensen and Ian MacColl were on the recipient lists for Innovation Development Grants.
Network Jamming researcher Andrew received his to further develop his 'Impromptu' environment, which underpins most of the Adaptive Media and Network Jamming projects ACID is exploring.
Accessible Interactions researcher Ian MacColl received his for his research with Tinker Tools: using ubiquitous computing for environmental education.
Congratulations to you both and thanks to the AUC!!
Student Update
Last month saw the successful catch up of the scholarship students in person and virtually at ACID. We were lucky enough to see presentations from 3 finishing students, Yolande Strengers and Julien Phalip who are under final examination at this moment and Dr Miek Dunbar who is now a fully fledged PhD! Congratulations Miek, and to Yolande and Julien as well.
Miek's PhD is entitled Beyond Skin Deep: Exploring the contribution of communication design within interaction design projects and his findings can be found here if you would like to check them out.
Yolande Strengers has been blitzing the conference circuit with her findings on Bridging the divide between resource management and everyday life: smart metering, comfort and cleanliness. She is facilitating a number of forums with water and energy demand managers and policy makers at Energy Australia (NSW), The Department of Resources, Energy and Tourism and the Department of the Environment, Water, Heritage and the Arts (ACT), and Melbourne's three water retailers, Melbourne Water and the Department of Sustainability and the Environment (DSE). Yolande's forums will disseminate her research to industry and discuss the issues and outcomes.
We are very excited about the prospect of Yolande's research influencing the future of our planet.
Sarah Moss' PEGASYS project, an interactive and immersive film experience, has had such a successful month at Beta Space at the Powerhouse Museum that it was accepted into the program for XMedia Lab's "Global Media Cultures", "the must attend digital media and creative industries event of 2009". Congratulations Sarah!!
Jake Hempson, scholarship student working with Dr Dave McKinnon on the ACID Vision Project, is participating in a small-scale group exhibition at the West End Flower and Art Shop in Brisbane, Hanasho. Please drop by if you're in the neighborhood, as he is exhibiting 3 works including the rapid prototype piece Crowskull scrimshaw, which is derived from 3Dsee data.
Jake also recently enjoyed having his works included in the Big Screen Project at QUT, where his digital works were projected on the Loft Building on the Kelvin Grove Campus.
If you're keen to find out more, Jake posts regularly about his progress on his visual arts blog.
The remaining scholarship students continue to power through some incredibly exciting works for ACID in and out of the projects they are associated with. Stay tuned for updates as they come to hand.

Technology Update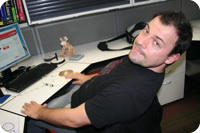 Master Chen's Microdot - Altering your perception of the outside world!
I was at a loss as to what I should enlighten you with in this episode of Litmus. Thankfully, Dr. David McKinnon of 3DSee fame came to my rescue. He asked me if there were any cheaper alternatives to Adobe Illustrator he could use to create some diagrams for his documentation. I was only too happy to recommend Inkscape.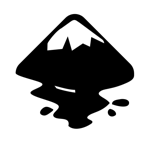 Inkscape is an open source vector graphics editor that supports all the bizarre gobbledygook functions that artists would expect from an expensive package such as Illustrator or CorelDraw. Best of all though, it's free!
Head over to www.inkscape.org where you can download the program for Mac or PC. There's also screenshots, tutorials, galleries etc.

Last week I was asked to do a bit of web design work. I haven't done any web design before but sticking a download button on a page didn't sound like too much trouble, the only problem was the graphics for the button. A bit of Googling turned up Cooltext where I was able to make a customised button in minutes. Check out my awesome handiwork (wear sunglasses).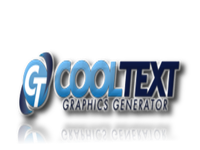 That's it for this issue. Thanks for reading and if you have any questions, suggestions or recommendations, feel free to drop me a mail.
Be seeing you!