The ACID office will close for the Christmas / New Year break on Friday, 19 December, and will re-open on Monday, 5 January. We hope you have a very safe and merry Christmas and New Year!
Secret Sauce IP Ventures to Commercialise Mobile Learning Software
Secret Sauce IP Ventures yesterday announced it has been granted rights to commercialise mobile learning software developed at ACID.
The Mobile Learning Kit (MiLK) takes teaching and learning opportunities out of the classroom and into any environment by giving teachers the ability to design interactive, curriculum-based learning activities using mobile phones and the Internet. Students can create their own learning profiles, discuss topics with other students and teachers, share ideas, photos and comments, and design their own learning events. Already deployed in a number of Australian, UK and US secondary schools, MiLK has been used successfully to improve student engagement and learning outcomes.
Read the full media release...
ACID Welcomes Professor Rod Wissler to Board
In late October, Professor Rod Wissler joined the ACID board of directors. Professor Wissler is Dean of Research and Research Training at Queensland University of Technology, with wide-ranging responsibilities in the development of QUT's research culture and research outputs, including international engagement. He has extensive experience as a Board member of QUT's nationally-funded research consortia in diverse fields such as engineering, agriculture, health and design, and is a Graduate of the Australian Institute of Company Directors.
Following completion of his PhD in German Drama (1978), he built a distinguished career as an award-winning actor, theatre director, translator and producer culminating in a seven year engagement as CEO and Artistic Director of the Twelfth Night Theatre (Inc).
Relocating to the university sector in 1988, he founded QUT's PhD program in the visual and performing arts, and the multi-disciplinary Centre for Innovation in the Arts at QUT to focus on arts and technology research. He established three 'spin-off' organizations, including Catalyst Youth Arts (Inc) in 1997 to undertake community-based youth development work. His scholarly activities have been supported by numerous peer-reviewed competitive grants over the past twenty years from the Australia Council, State and National Government departments and the Australian Research Council, with major projects in arts festival management and regional arts management.
Professor Wissler has supervised more than twenty research degrees to completion, he has wide experience as a PhD examiner, and has consulted for many universities and national academic groupings on research, postgraduate and course development issues. He is a reviewer for both the Australian Research Council and the Australian Learning and Teaching Council. He is the Director of e-Grad School (Australia). This major graduate studies reform project, funded by the Australian Government and the Australian Technology Network of universities, provides online professional education and a Masters course for researchers in commercialization, R&D management and related fields.
Yolande Strengers Shares Gitte Lindegard Best Paper Award at OZCHI 2008
Yolande Strengers, a third year ACID PhD student in the School of Global Studies, Social Science and Planning at RMIT University, shared the Gitte Lindegard Best Paper Award at the OZCHI Conference in Cairns during December. Yolande's paper, titled Smart Metering Demand Management Programs: Challenging the Comfort and Cleanliness Habitus of Households, explored the ways in which computer-human interaction designers could challenge social norms and shared practices related to bathing, laundering, heating and cooling in homes.
The other paper sharing the award was Rural Encounters: Cultural Translations Through Video, by David Browning, Nicola Bidwell, Dianna Hardy and Peta-Marie Standley from James Cook University.
Yolande certainly didn't expect to win awards by suggesting that our bathing practices are possibly too extreme, or that we might be over-using air-conditioning, particularly to an audience located in Cairns' tropical heat. "I was just aiming to get people to understand where I was coming from and not be socially ostracised as a result!" she said. "My research is based around ideas of changing normality and the lifestyles we've become accustomed to, and for some people that's quite intimidating and challenging."
"I was really blown away by the amount of social, anthropological and ethnographic research taking place in the CHI community. The discipline appears to evolving away from user-centered design towards a deeper understanding of humans and their complexity. I think the two papers that won the award this year – mine and the 'rural encounters' paper from JCU, really reflect that shift."
Yolande would like to thank Associate Professor Barbara Adkins, Education Director at ACID, and her supervisors Dr Anitra Nelson and Professor Mike Berry from the Australian Housing and Urban Research Institute at RMIT University, for their ongoing support of her research.
For a copy of Yolande's paper, you can email her at yolande.strengers@rmit.edu.au.
Up Close: 10 Questions for... Jeremy Yuille
Each fortnight we put 10 questions to an ACID member of staff, researcher or student.
This issue of Litmus features Jeremy Yuille, ACID project leader, digital media artist and academic specializing in interactive sound and design systems.
Q: What is it that you actually do?
A: I'm an interaction designer, so I think a lot about he way people and technologies touch one another. These days I tend to use this activity in the management of teams that bring researchers, designers and developers together to look at interaction and user experience designs. Oh... I'm also working on a few small projects on the side.
Q: What is the most enjoyable part of your job?
A: Seeing a bigger picture emerge from the detail, then communicating that well with key stakeholders... and when a project comes together with tangible outcomes, like Protospace, or Interaction09.
Q: And the least enjoyable?
A: Not having enough time to really go deep.
Q: What are you reading?
A: Bill Buxton's Sketching User Experiences – for our first UX Bookclub meetup. I usually have one or two sci-fi novels on the go in parallel, current ones are Neal Stephenson's The Diamond Age (recurring inspiration) and anything by Greg Egan (ditto).
Q: What are you listening to?
A: twitter.
and the Necks - Aether (for writing)
if you check my last.fm profile you'd think I'm a lullaby freak (we have a one year old).
Q: Favourite movie of all time?
A: Too hard!
Dead Man – for the soundtrack.
Koyanaskatsi – for the concept and visuals.
Q: If you were an animal, what would you be and why?
A: I'd be a human – because human beings are animals too.
Q: Dead or alive, who would you most like to meet?
A: Buckminster Fuller.
Q: What one question would you ask this person?
A: Can I buy you a long lunch? ;-) Seriously - I've so many questions for Bucky, but I suppose they'd be related to education and designing for spaceship earth.
Q: If you could do anything, what would it be?
A: Transcend. Definitely. ;P
Failing that - I'll like to be able to concentrate on the moment a little better.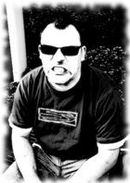 Master Chen's App of the Fortnight
Fragmentation. Awesome for grenades, not so much for hard drives. In case you didn't know, your hard drive is the part of your computer where your operating system, documents and illegally downloaded music are stored. As time goes by you add, delete and move files around, leaving gaps in between. Your computer fills those gaps with bits of other files and the whole thing gets messier and harder to read. Your computer gets tired and slows down as a result.
So what's the solution? Well, Windows does have a built in defragmentation tool but it's missing a lot of functionality, so we're forced to look further afield. Enter JKDefrag!
JKDefrag is a very simple defrag program for Windows. There's no setup, install or configuration required, just download the zip file from the site, extract Jkdefrag.exe and run it. It will automatically process any hard drives it finds on your computron.
You can set it up as a screensaver to defrag when you're not around or, if you want to feel like a fancy-pants hacker, there's a command line version to play with too. Full instructions are given on the site.
Happy defragging folks and may all your files be contiguous!
Master Chen