Master Chen Reports Back from 48hr Game Making Challenge
What would you do if someone asked you to develop a video game? What if they told you that it had to be done in two days under lock-down conditions? What if they provided free noodles to eat?
For fourteen teams of budding game developers, this became a reality at the Game On 48hr Game Making Challenge. A gruelling contest that pushed mind, body and spirit to the absolute limit.
The contest kicked off with the announcement of three key words; watermelon, astronaut and summertime. The judges would be looking carefully at how the teams integrated these into their working prototypes. And so it was that 90 of Australia's future professionals embarked upon a 48 hour journey of sleep deprivation and noodle consumption as they attempted to cram what usually takes more than six months to achieve into just two days.
Broadcast live across the globe via webcam, the folks at home could watch the competitors' sanity slipping away as they imbibed energy drinks in an effort to stay awake. As the sun set on the second day, patience was wearing thin and tempers flared. The intensity of designing, programming and debugging their games was taking its toll.
Ultimately it was Sif90,last year's winners, that most impressed the judges with Melonaut a competitive multiplayer game where astronauts harvest watermelons in the summertime and fire them at each other. A calm and methodical approach to design as well as an effective sleeping regime was key to their success and a lesson to those who threw themselves headlong into development before properly firming up their concepts.
The 48 hours flew by as we all shared the experience. New friendships were forged and conversations in the parade ground became more surreal as we watched the sun rise over Brisbane. But what of the essence that is at the heart of game development, the foundation upon which the industry is built, that nebulous factor that every game designer strives to capture? We call it 'fun' and it was present here in abundance.
For more details on the competition, the teams and of course the games themselves, go to www.48hrgamecomp.com
Master Chen
Ed: ACID would like to thank Master Chen, who, while he omits it from his field report, provided Game On with 48 hours of continuous network support and up-time!
Australasian Symposium on Interaction Design (ASID) 2008
We have had a very encouraging response to the call for papers for ASID this year. The symposium will showcase ACID's research in key areas such as media and digital arts, supporting knowledge relationships through online collaboration, and designing for community participation. A finalised program will be available later this week.
The symposium will open with a keynote address by Professor John Hartley entitled Interaction Design: A Contradiction in Terms? The Challenge of Distributed Expertise.
All ACID researchers, affiliates and friends are welcome to attend. It is a great opportunity to share and discuss recent research located at the new intersections between digital technologies and the worlds of work, media and the arts, and community life.
The symposium will be held 10am to 5pm on Friday, 24 October, in the Owen J Wordsworth Room on Level 12 of S Block at QUT's Gardens Point Campus.
Jeremy Yuille's Tale of Two Cities
ACID project leader, digital media artist and RMIT researcher Jeremy Yuille recently returned from a trip to the US and Canada, checking in with Interaction Designers in and around San Francisco and undertaking strategic planning with the IxDA board in Vancouver.
Jeremy visited with Prof. Terry Winograd and Bill Verplank at Stanford University, and spoke with them about their work educating for IxD and designing Stanford's d.School. While in the bay area Jeremy visited IDEO Palo Alto, spoke with Dan Saffer about his new studio and upcoming book with O'Reilly Media, and led a lunchtime workshop on links between IxD academia and industry with Adaptive Path.
Later, in Vancouver, Jeremy worked on visions for the Interaction Design Association with the rest of the IxDA board of directors, and pre-conference planning with the School of Interactive Arts and Technology at SFU, for Interaction09.
He is now very happy to be back in the land of real mobile bandwidth.
Congratulations to Our Very Productive ACID Students!
Five ACID students have had papers accepted for OZCHI 08, Australia and New Zealand's leading forum for work in all areas of human-computer interaction.
The five students who will present their work at OZCHI from 8 to 12 December are Yolande Strengers on smart metering, Julien Phalip on online film music collaboration, Sarah Moss and her account of the creative development of PEGASYS, Nicole Podleschny on urban sustainability simulation, and Viveka Weiley on the distributed studio and creative collaboration.
In addition to the strong showing by ACID students at this year's OZCHI, Subas Dhakal's work on ICTs in environmental community organisations has been accepted for the Making Links 2008 conference, and Fiona Redhead recently presented her research on neighbourhood interaction at PDC '08 at Bloomington, Indiana. Congratulations also to Gaurang Desai for his paper on an activity theoretic framework for indutrial design, which has been accepted by the Journal of Design Research, and Damian Hills, whose paper on a generic framework for collaborative storytelling has been accepted for Interactive Entertainment 08.
Sherwin Huang Reports Back from Electrofringe
Colleen Morgan, Yang Wong and Sherwin Huang from ACID's Cipher Cities project ran workshops at the Electrofringe Festival in Newcastle in early October.
Electrofringe is an annual festival and year round program of experimental electronic arts and culture dedicated to skills development and artistic exchange.
Read Sherwin's blog entry about Cipher Cities at Electrofringe...
Amanda Boland-Curran Recognised for Services to Communication Industry
While we're in the mode of recognising the achievements of students and staff, let's not forget that earlier this month ACID's Business Manager, Amanda Boland-Curran, was made a Fellow of the Society of Business Communicators Queensland in recognition of her services to the communication industry and to the Society.
Congratulations ABC!
AProf Michael Docherty Elected to Apple University Consortium Executive Committee
ACID project leader and senior QUT lecturer, AProf Michael Docherty, was recently elected to the Executive Committee of the Apple University Consortium (AUC).
The AUC has some 32 member universities and is independent of Apple, being governed by its members. Each year, the AUC funds a number of programs and initiatives that deliver benefits to its members including support for the development of Apple technology in Higher Education.
The AUC Executive Committee is responsible for liaising with Apple and the Consortium to ensure that individual member goals are achieved.
CreateWorld 2008: The Art of Serious Play, The Serious Art of Play
Michael Docherty is also on the organising committee for CreateWorld 2008.
CreateWorld 2008, hosted by the AUC and Apple Computer Australia, is a 3 day presentation and technical development event, specifically for academic and higher education technical staff in the digital arts disciplines. It will run from 7 to 10 December 2008 at Griffith University's Brisbane South Bank Campus, across the facilities of the Queensland College of Art, the Queensland Conservatorium, the Griffith Film School, and the Graduate Centre.
The conference will feature a wide range of presenters from academia and industry as well as hands-on technical workshops.
Up Close: 10 Questions for... Dr Steve Dillon
Each fortnight we put 10 questions to an ACID member of staff, researcher or student.
This issue of Litmus features Dr Steve Dillon, leader of ACID's Network Jamming project and a senior lecturer in Music and Sound at Queensland University of Technology in the Faculty of Creative Industries. Steve is internationally recognised as a leading researcher in the field of positive effects of school and community music programs, particularly on at risk youth.
Q: What is it that you actually do?
A: All my work focuses upon researching meaningful engagement. I am director of a Global research network called save to DISC (Documenting Innovation in Sound Communities) http://www/savetodisc.net/ The network focuses on documenting and sharing innovative approaches to learning and making music. The project I lead at ACID, Network Jamming, is one such innovative research project that uses games interfaces and generative arts technologies developed by the research team to meaningfully engage young people and adults in playing in a jam2jam ensemble. Theories of meaningful engagement developed by Andrew Brown and I have been used in the design of the software and it has been tested on thousands of young people for over six years now. What I actually do is promote the software and apply it in different contexts like education and community health and arts. I am part of a team of fourteen people in four countries working on this project. This team range from music and media educators to sociologists, health practitioners and therapists, interaction designers and software creators. What I did was to bring these people together using the network and help create a context where each researcher can find uses and insights from working within their context. I also get together with these people to present and publish research generated by the project at conferences and in journals and books. I also get to work with Industry partners like AVID, Apple, Sibelius, CreActives and Korg to see what the commercial potential of the system is. I run workshops and do some hands on case study research too and find this enjoyable but that I need to let go of this and let the team do this more in the future as the project has grown beyond the solo researcher stage.
Q: What is the most enjoyable part of your job?
A: There are many. I love working with such a 'can do and then do it beyond expectations' team. People who are from diverse backgrounds and disciplines bring such a great aspect to the research. I suppose what gives me flow is seeing and experiencing synergistic creative thought and action, and I get that from the team. I get it from the field practitioners too – creative teachers and coaches. Most of all I get it from watching and observing young people being creative and doing unimaginably creative and complex things in elegant and interesting ways. Just the other day while working with some young Indigenous people I saw an eleven year old boy engaged for 45 minutes or more playing with a single aspect of the software and building what was an incredibly creative performance simply using his fingers and the webcam Kaleidoscope function of jam2jam. Not only did that become a great insight into engagement but it was exciting to see how creative the performance was. Kids do surprising things and so do adults when given the opportunity and I think jam2jam is telling us lots about this. The other exciting part for me is that as an aging rockstar I get to take all this creative activity and show it to others all over the world – so it is performative.
Q: And the least enjoyable?
A: Least enjoyable is always the report writing and ethics documents though they are very helpful in forcing me to reflect on what has happened and how the research can proceed ethically and constructively. Financial stuff is also a nightmare for me but fortunately ACID gives us lots of help in that department.
Q: What are you reading?
A: Strange I don't read much lately. I've just finished Oliver Sach's Musicophilia. The joke is that lately I've written more books than I've read. I know this sounds strange but I am reading Music and Spirituality assignments at the moment in multimedia form – podcasts, vodcasts, mixed media work – and am enjoying marking again because I get the pleasure of students creative thinking and practice.
Q: What are you listening to?
A: Musically is also strange. Lately I've been listening to songwriters I hope will influence the new album I want to write next year. So Ron Sexsmith, Crowded House, Jimmy Webb. I'm also recording with the drummer and keyboard player from Root an offshoot from TISM so I've been listening to their playing.
Q: Favourite movie of all time?
A: Probably The Blues Brothers. The mix of comedy and great rhythm and blues is amazing.
Q: If you were an animal, what would you be and why?
A: Golden retriever because they have such charmed lives they must be a higher life form. Supermodels of the dog world too!
Q: Dead or alive, who would you most like to meet?
A: Mihály Csíkszentmihályi the author of Flow: The Psychology of Optimal Experience. His thinking has influenced me profoundly, his work is one chapter of my book.
Q: What one question would you ask this person?
A: Where is music in your life?
Q: If you could do anything, what would it be?
A: Probably what I am doing only in a more focused and not dispersed way. I would also love more time to make music with people I like both live and recorded.
Ed: Steve gave a presentation of jam2jam at the ISME World Conference in July this year. Visit the Network Jamming blog to see the presentation, catch up on JamNation, PowerJam and other jam2jam news. While you're there, check out Andrew Brown's entry from the Performing the World 2008 conference where he represented the Network Jamming project.
iPhone Tech Talks in Australia
Next month, Apple technology evangelists and engineers will be visiting Australia as part of Apple's global iPhones Tech Talks series. This offers developers of iPhone applications the opportunity to learn about the tools and technologies you'll use to create great iPhone applications, then work with the experts to optimize your code, refine your user interface, and apply the knowledge you gain from the sessions to enhance the capabilities of your iPhone application.
The Apple University Consortium (AUC) is offering member universities four subsidised places to send staff and students to the iPhone Tech Talk in Sydney on 19 November and Melbourne on 21 November. The subsidy consists of financial assistance in covering return economy airfares and accommodation in Sydney or Melbourne for those who may require it.
To learn more about the talks, the AUC subsidies and the registration details, visit the AUC website.
Live Coding with Impromptu at DevWorld 2008
ACID's Adaptive Media project leader, research fellow and computational musician, Andrew Sorensen, presented and performed a live coding session with Impromptu at last month's DevWorld 2008 conference in Melbourne. Impromptu is an OSX programming environment for composers, sound artists, VJs and graphic artists with an interest in live or interactive programming.
Andrew has previously performed using Impromptu in Europe and Asia, and at DevWorld discussed some of the key ideas behind the practice of live coding and the Impromptu development environment.
Live coding is the name given to the process of writing software in realtime as part of a performance. To support this, Impromptu provides a dynamic, interactive programming environment where programs are modified and extended while they are running, without the need for traditional, iterative code generation and testing cycles.
Learn more about Adaptive Media...
Learn more about Impromptu...
It's Time to Register for Interaction 09
Programming has been announced and registration is now open for Interaction 09, the second international conference of the Interaction Design Association (IxDA). Hosted in Vancouver in partnership with Simon Fraser University School of Interactive Arts and Technology (SIAT), Ix09 will continue to be the place to meet and learn with colleagues in the discipline and profession of interaction design.
The program of workshops, keynotes, invited sessions and lightning round presentations sourced from the global IxDA community include:
Keynotes from: John Thackara, Fiona Raby, Genevieve Bell, Dan Saffer, Mark Rettig, Kim Goodwin Round table on "what's next for IxD?" hosted by Jared Spool
Workshops: Steve Portigal, on transforming design research into design output, Dan Saffer and Bill DeRouchey, on designing for touch screen and interactive gestures, Dan Brown, on design deliverables, wireframes and flows and seven more... including a workshop for IxDA local groups to meet up and work on ways to sustain their local communities.
The full program is available at interaction09.crowdvine.com/calendar
Early Bird registration is open now at interaction09.ixda.org/registration.php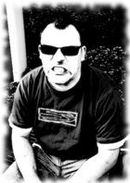 Master Chen's App of the Fortnight
Nothing makes me want to poke out my own eyes quite as much as having to look at photos that someone's uploaded before fixing red-eye, colour and brightness problems. Remember that party you went to and everyone was a werewolf-vampire-zombie? No, I don't either, but there's the photographic evidence.
So, what went wrong? Some people are just lazy. I can't fix that. Other people haven't got the time to learn Photoshop and touch up the photos themselves. That's understandable. So, what if I showed you a powerful photo editing tool that you can access from anywhere and doesn't require a masters degree in poncy-art-computerism to use?
Ta-daa! I give you Picnik. For the incredulity inducing price of zero earth dollars, Picnik provides a suite of easy to use photo editing tools accessed via your browser. Simply upload your snap, click auto-fix and you're good to go. And in true 'Web Two-Point-Oh' fashion, you can upload your digitally doctored duplicate straight to Flickr, Picasa or even the FaceBook!
Master Chen