Today is World Philosophy Day.
Happy thinking!
ACID Welcomes Professor Sue Rowley to Board
Last month, Professor Sue Rowley joined the ACID board as Director (Research) replacing Professor Neil Furlong from RMIT University upon his retirement. Professor Rowley is the Deputy Vice-Chancellor Research at the University of Technology, Sydney, where she provides expertise, experience and standing in research, industry partnerships and the creative industries.
As UTS Deputy Vice-Chancellor Research (DVCR), Professor Rowley has overall responsibility for research, research training and commercialisation at UTS and plays a leading role in the University's engagement with industry, business and government.
Prior to her appointment at UTS in 2004, she was the Australian Research Council's Executive Director for Humanities and Creative Arts. In this role, she developed the ARC's inclusive approach to research in the creative arts, design and architecture. Under her leadership, cooperation between the Australian Research Council and the Australia Council resulted in an MOU and a joint initiative for co-funding art and science/technology projects. She was an influential advocate for the inclusion of creative digital media as 'frontier technologies' in the National Research Priorities.
Professor Rowley's current roles include membership of various boards (Capital Markets CRC, Australian Technology Park Innovations (ATPi), INTERSECT (NCRIS-funded NSW node for eResearch services and computing infrastructure), Sydney Institute of Marine Science (SIMS) and ARC Centre of Excellence in Ultrahigh Bandwidth Devices for Optical Systems (CUDOS).
ACID Chair Heads Science in NSW

On 23 October, NSW Premier Nathan Rees announced the appointment of Professor Mary O'Kane as NSW's first Chief Scientist and Scientific Engineer.
Professor O'Kane is a former vice-chancellor of the University of Adelaide and a former member of the Australian Research Council, the CRC Committee and the board of the CSIRO.
Cipher Cities... It's Official!
Yes, the official launch is finally upon us!
December 5th 2008, 6pm
State Library of Queensland, Stanley Place, Southbank, Brisbane
The crew behind Cipher Cities will be presenting the new look and wonderful features of Cipher Cities and will describe how you can become a top Cipher Citizen. There will be Cipher Cities games to play and to make... and the crew will reveal the first Cipher Cities International Game Competition.
The launch is part of the Game On Nights program at the State Library of Queensland. Booking fee for the entire night is $21.50 which includes entry to the Game On exhibition, demos, live bands, DJs and a cash bar.
ACID Prize for Tangible Media Goes to Plobs
Each year the ACID Prize for Tangible Media is awarded to the Queensland University of Technology Bachelor of Creative Industries (Communication Design) student project with the highest academic score and the most thorough resolution of a prototype.
The 2008 ACID Prize was awarded to Plob's Plight on Legosia by Dominic English (Artistic Lead and Co-designer) and Rory Cartwright (Technical Lead and Co-designer).
The objective of Plob's Plight on Legosia is to move the oblivious Plobs safely from one island to the next and to guide the Plob's progression through each level, avoiding dangerous obstacles along the way. The player controls each aspect of Plob's Plight on Legosia with a set of real Lego bricks. Each block's colour and shapes signifies a different surface property or variable, with the Plobs reacting differently to each addition of a blockto the base.
Second prize was awarded to Tenchijin by Richard Rothkugel (Project Manager), Tim Van Der Horst (Programmer) and Tom Hughes (Lead Designer). Tenchijin (roughly translated as Heaven, Earth, Man) is a game world where players are given supreme power over the game's inhabitants. Whether they help the denizens of Tencijin to thrive, or allow them to suffer, is entirely up to the player.
Learn more about Plobs and Tenchijin at Play On 08...
Performing the World
In early October, Associate Professor Andrew Brown represented ACID's Network Jamming project at Performing the World 2008.
Performing the World brought together activists, artists, educators and scholars practicing with performance as a new way of relating to, understanding and changing the world.
Read about it at the Network Jamming blog...
Up Close: 10 Questions for... Colleen Morgan
Each fortnight we put 10 questions to an ACID member of staff, researcher or student.
This issue of Litmus features Colleen Morgan, Community Researcher and Community Manager for ACID's Mobile Learning Kit (MiLK) project.
Q: What is it that you actually do?
A: My role within ACID projects is as Community Researcher and Community Manager. I sit between designers, developers and end users, focusing on the needs and feedback of end users to shape project direction and guide development. I also write and disseminate our research findings.
Q: What is the most enjoyable part of your job?
A: Seeing people use our software. It gives us a chance to step back and view our work from new and different perspectives and can sometimes provide that much needed 'ah ha' moment.
Q: And the least enjoyable?
A: Applying for ethics clearance.
Q: What are you reading?
A: The Poetics of Space: The classic look at how we experience intimate places, by Gaston Bachelard
Q: What are you listening to?
A: Goyte, Like Drawing Blood.
Q: Favourite movie of all time?
A: The Man Who Wasn't There - Joel and Ethan Coen. Perfect mix of seriousness, humor, and beauty.
Q: If you were an animal, what would you be and why?
A: Ladybug - Springtime
Q: Dead or alive, who would you most like to meet?
A: Olive Cotton
Q: What one question would you ask this person?
A: Do you know my cat is called Olive Cotton?
Q: If you could do anything, what would it be?
A: This answer morphs every five seconds, however at this current point of time: travel the world without having to worry about where the money is coming from.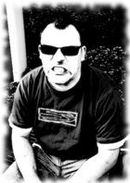 Master Chen's App of the Fortnight
Look out! There's a thief about! No, not Hamburglar. I'm talking about a cybertronic techno-thief. It's trying to access your bank/email/crochetville.org account right now and the only thing stopping it is...?
That's right, your password. I'm sure most of you have a super cryptographic mind-bender of a password that only Stephen Hawking could figure out. However some of you, you know who you are, are blissfully unaware that 'password1' is about as secure as a soggy paper bag. Thief-bot's onto you.
Unless you're me, remembering a different 128bit case-sensitive alpha-numeric password for every account you log into is going to be a stretch. That's where KeePass steps in.
Keepass stores all your passwords in a secure database locked with a master key. It can generate super-secure passwords for all your accounts and you can carry either the app, the database or both around with you on a USB stick.
You'll only have to remember a single password and, as long as you don't cheerfully announce what it is and the location of your Keepass database file in Thief-bot's presence, your Crochetville forum identity will remain uncompromised.
Master Chen