Litmus is early!!
We heard you were keen to hear what's been happening at ACID so we thought we'd answer your call.... (also your friendly editor is having a little vacation, so we're early!)
Enjoy!
Jamskolan Round Up
For those of you fortunate enough to attend you will know that Jamskolan was a HUGE success. Workshops, showcases, forums and demos enjoyed with abundance by all.
The decided outcome from the process was a recipe book, documenting the ideas that came out of the 13 days of discovery.
ACID would like to thank all who contributed to the success of the Symposium; our overseas friends who joined us from the Universities of Illinois, Massachusetts and Malmo, our performers from Down Syndrome Association of Queensland, students from Queensland Academy for Creative Industries, Tim Kitchen, Andy Foster, Fiona Vance and the many others who we couldn't have done it without. A heartfelt thank you to you all!
Birds of a Feather
Creative Engagement Birds of a feather was organised as part of ACID's Jamskolan symposium which brought international researchers on creative engagement and new media together with ACID researchers.
Morning presentations focused on engagement relationships enabled by new media with a particular focus on learning relationships and symbolic interactions through music.
The afternoon papers featured research from Creative Industries and ACID projects looking at creative engagement in the context of annotation tools for rich media and online environments representing indigenous knowledge.
The creative engagement symposium enabled researchers to explore opportunities for future book, publication and international research collaborations.
Pool Report

The Pool team have released their latest report on the project over at the Pool User Experience blog.
Go and check it out!
Web Directions
ACID Project Leader Jeremy Yuille will be presenting at the upcoming Web Directions Conference in October, talking about visualisation and sharing the research he and his team have been doing with our friends over at Deloitte Digital.
Jeremy's Loupe team have gone live with recent outcomes from their research with Deloitte Digital. Social Visualization Patterns is a library of interaction design patterns for the implementation of a visualization centered social space.
Jeremy is also sitting on a panel at Ed Directions, looking at educating educators about careers in digital (predominately web) design.
ACID Internships
ACID is proud to announce the successful placement of the first of our Internships.
QUT student Donna Hancox is excited to be starting her time with Micah Projects in West End.
A little about the project:
Within the community sector the use of creative and arts based initiatives to explore avenues of expression for otherwise silenced individuals, has a long tradition. This project seeks to work with Micah Projects to facilitate the opportunity for their clients to give voice to their experiences, and to create spaces for those voices to be heard. This approach explores new possibilities for community organizations to combine creative and creative non-fiction writing with information communication technologies to encourage interaction between marginalized groups and mainstream society.
Stay tuned for an update from Donna in the coming months.
West End... LIVE
ACID is very excited to be collaborating with the team bringing you the West End Walking Tour, an event showcased in this year's Brisbane Festival.
ACID's friend Hamish Sewell has coordinated some marvelous histories, interviews and stories about the West End area, which have been recorded by the ABC, will be hosted by SLQ and accessible through the season of the Brisbane Festival event West End...Live! 30 September - 3 October. What a fantastic collaboration!
ACID's Urban Interfaces will assist the deployment of this project with ACID infopoints being used to deliver the information to Walking Tour participants, who will be able to download the files along their way.
Mark your calendars now, you don't want to miss the West End Walking Tour during WEST END...LIVE!
Check out the full Brisbane Festival Program Guide here.
Spotlight on ACID's Recensio project
Associate, Collaborate, Annotate!
ACID'S Recensio project is helping Australian Universities who require a streamlined assessment system, to specifically process and manage creative industries' PhD assessment workflow from conception to exhibition through the utilisation of rich-media annotation, social media tools and online resources.
The requirements have strong parallels with arts granting bodies (film, TV, music, art works etc) who have distributed, collaborative based assessment of the works leading to granting funding for successful candidates – i.e. experts opinion from world wide may be sought as part of the assessment / collaborative discussions on the merits and rankings of different works.
Research supporting the development is currently conducted on how people collaborate and reach consensus in domains that rely heavily on digital media assets, such as video, illustrations, and music.
This research will extend that carried out as part of ACID's previous research project called ACID Press, researching in the areas of online annotation and collaboration, including the discoveries and developments within the Protospace, Scribblr, OCD and the Virtual Communities projects.
For more information don't hesitate to contact Recensio Project Leader, Michael Docherty.
OZCHI 2009 - Design: Open 24|7
21st Annual Conference of the Australian Computer-Human Interaction Special Interest Group (CHISIG) and the Human Factors and Ergonomics Society of Australia (HFESA).
23 - 27 November 2009, The University of Melbourne, Australia ozchi.org.
CALLING: Short Papers | Industry Case Studies | Demos & Posters | Doctoral Consortium Applications | Workshop and Tutorial Participation | 24 Hour Design Challenge Entries | Student Volunteers
For further information please got to ozchi.org or contact Marcus Foth.
OZCHI 2009 - Design: Open 24|7 - Full Day Workshop
Hungry 24/7? HCI Design for Sustainable Food Culture, OZCHI 2009, Melbourne Call for Participation
Hungry 24/7? HCI Design for Sustainable Food Culture
Full day workshop at OZCHI 2009, 24 November 2009, University of Melbourne
This workshop proposes to explore new approaches to cultivate and support sustainable food culture in urban environments via human computer interaction design and ubiquitous technologies.
Food is a challenging issue in urban contexts: while food consumption decisions are made many times a day, most food interaction for urbanites occurs based on convenience and habitual practices. This situation is contrasting to the fact that food is at the centre of global environment, health, and social issues that are becoming increasingly immanent and imminent. As such, it is timely and crucial to ask: what are feasible, effective, and innovative ways to improve human-food-interaction through human-computer-interaction in order to contribute to environmental, health, and social sustainability in urban environments?
This workshop is an open and active forum for forward- thinking practitioners and scholars across disciplines to discuss this question, and plan and promote individual, local, and global change for sustainable food culture.
YOU DO NOT NEED TO BE WORKING IN FOOD HCI RESEARCH. YOU DO NEED TO BE HUNGRY (for networking, knowledge, creativity, fun, and of course food!)
For more information please see:
food.urbaninformatics.net/events/ozchi2009
CONGRATULATIONS!!
Two of ACID's Alumni were promoted to ASPRO this week.
Enormous congratulations to Associate Professor Axel Bruns and Associate Professor Marcus Foth!!
48-hour Game Competition
The fabulous 48 hour game making challenge is BACK!
2-4 October
Field a team of 4 or 5 and enter this year's fabulous 48 hour. As usual the competition will take place in the block with judges from local games industry. More information and entry requirements via the Brisbane IGDA forums.
If you are hoping to join in and you don't have a team, tout your skills and get in some practice via the Brisbane Student Gamers Facebook Group or join the discussions via our chapter forums: Brisbane International Game Developers Association.
TEAM REGISTRATION coming HERE soon - or contact Truna in the meantime.
UPDATE: This year we are hoping to field a PROFESSIONAL TEAM competition - we have one pro team ready to go - dare anyone field a team against them? Contact Truna if you are interested.
Technology Update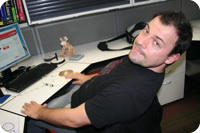 Master Chen's Microdot - Altering your perception of the outside world!
Greetings readers and welcome to The Microdot where I'll be presenting the latest and greatest apps and gadgets to speed you on your travels through cyberspace.
'Mobile Air Mouse' acts as a remote track pad and gyro mouse, perfect for presenting in the board-room or controlling your media PC without having to buy an expensive wireless keyboard and mouse. Just install the software on whichever computer you want to manipulate and link it to your iPhone over the network. Check out mobileairmouse for more information.
Social networking and instant messaging are growing to be indispensable business tools, but with the growing number of clients required to keep up with everyone, your system tray may be starting to look a little busy. 'Trillian' combines all the most popular IM and social networks into a single client meaning you only have to sign in once, tidying up brain and desktop clutter all in one go! To find out more, visit trillian.im
Well, that's it for this month. If you have any feedback or comments, feel free to drop me an email. See you next time!